Thanks to the rainforest, the many rivers and the climate, fauna and flora of the Central African Republic abound.
Manovo-Gounda St. Floris is the largest nature reserve in Central Africa, stretching over more than 6,700 km² and is home to many endangered species, such as hippos and black rhinos.
Dzanga Sangha protected areas in the western part of the country are also worth a visit for their extraordinary ecosystem.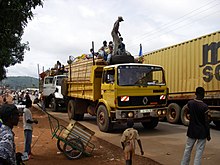 HERE YOU FIND THE OPPORTUNITIES FOR 4 TYPES OF ACTIVE HOLIDAYS!