One of the biggest attractions that anyone visiting Juba will not want to miss is the White Nile, one of tributaries that form the Nile, the longest river in the world that flows into Egypt before ending up in the Mediterranean.
The four national parks include Bandinglio, Boma, Southern and Nimule National Parks. Of these four, Bandinglio National Park is the most important. This is because here happens the second largest animal migration in the world occurs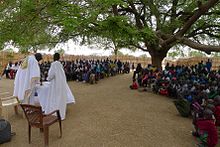 HERE YOU FIND THE OPPORTUNITIES FOR 3 TYPES OF ACTIVE HOLIDAYS!