The mosques Djingary Ber and Sankore in Timbuktu, the Djenne Mosque, Dogon Country, the Tomb of Askia in Gao and Jaaral and the Degal in Diafarabe and Dialloube are all UNESCO World Heritage Sites. The cultural sites, beautiful landscapes, vibrant and colorful neighborhoods and villages are part of the experience.
The Niger Delta with its architecture and its Ramsar sites, which each year hosts thousands of waterfowl, the Sahara Desert, whose beauty makes the trip unforgettable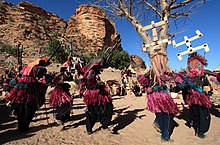 HERE YOU FIND THE OPPORTUNITIES FOR 4 TYPES OF ACTIVE HOLIDAYS!