The tiny state of New Jersey is often overshadowed by neighboring New York City. But surprisingly, there is more to New Jersey than gray factories and industrial areas.
One of the state's most treasured prizes is its 127 miles (204km) of sandy beaches along the Atlantic coast, featuring many resort areas, busy sidewalks and beautiful Coastal towns that attract thousands of tourists to enjoy the sun, surf and excitement of the famous Jersey Shore.
There's also a reason why New Jersey has been nicknamed "The Garden State," and that's because it is home to over 35 state parks and more than a dozen state forests.
There are also several nature management areas and half a dozen national wildlife sanctuaries. Oh, and part of the famous Appalachian Trail even cuts through the state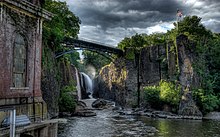 HERE YOU FIND THE OPPORTUNITIES FOR 4 TYPES OF ACTIVE HOLIDAYS!