Lively days, blue skies, and "Southern Hospitality" can be found in North Carolina.
Natural attractions in North Carolina range from sandy beaches of low-lying Outer Banks in the east to high mountain ranges in the west.
Surrounded by 480km (300 miles) of beaches, islands and fjords, the North Carolina coast is known for its fishing, boating and other recreational opportunities.
The Great Smoky Mountains National Park is the largest attraction in North Carolina and a must-visit place during your trip. With over 12 million visitors each year, it is the most visited national park in the United States.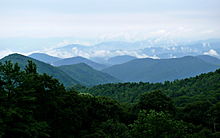 HERE YOU FIND THE OPPORTUNITIES FOR 4 TYPES OF ACTIVE HOLIDAYS!