The Cape Verde Islands are a place of great contrasts, with each of the 10 islands offering a different experience. The population is a mix of African and European heritage and when you arrive you will find that each island is a different experience.
Apart from the fantastic beaches you can dive, sail or enjoy many hiking opportunities.
Fogo has a still active volcano where you can explore the crater and enjoy the panoramic views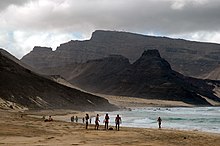 HERE YOU FIND THE OPPORTUNITIES FOR 4 TYPES OF ACTIVE HOLIDAYS!