Despite its relatively small size, Togo has large tourist assets – unique landscapes spread across the country's five regions, globally recognized monuments and sites (one of which is a UNESCO World Heritage Site) and a 45 km coastline with beautiful fine sandy beaches bordering Atlantic Ocean.
All of these make it a truly diversified tourist destination.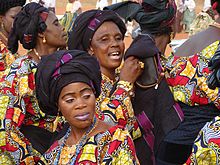 HERE YOU FIND THE OPPORTUNITIES FOR 4 TYPES OF ACTIVE HOLIDAYS!