Located in the heart of the Rockies, you will find as Wyoming is known as the 'Cowboy State' and is home to 'Buffalo Bill' Cody. It is the ninth-largest state in the United States and has the smallest population.
The spirit of the Wild West is alive and well in Wyoming, with its open expanses, rugged landscapes and breathtaking scenery.
Geographical attractions include 11 large mountain ranges, grasslands, grasslands, parks, forests, lakes and rivers.
Wyoming boasts excellent hiking, mountain biking, kayaking, rock climbing and fishing as well as some of the best skiing in North America.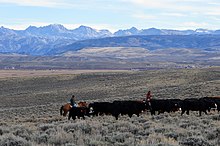 HERE YOU FIND THE OPPORTUNITIES FOR 4 TYPES OF ACTIVE HOLIDAYS!