Iran is a country so diverse and engaging that is waiting to be explored.
Visit the towns of Esfahan and Tabriz, located in the Zagros Mountains in Central and also venture out to the desert around Kerman.
On your trip you will visit the lost glory of ancient Persopolis and you will be mystified and fascinated. Although misunderstood, Iran is one of the most welcoming countries and the people of Iran are hospitable, generous and friendly.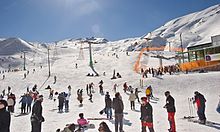 HERE YOU FIND THE OPPORTUNITIES FOR 3 TYPES OF ACTIVE HOLIDAYS!