The 'Mountains of the Moon' are a staggering 5,109 meters, and are home to the only glaciers on the African continent. A climb to Margherita Peak takes you through mists and alpine meadows, past strange, wonderful plants and even forest elephants and okapi.
Gorillas may be the biggest attraction in the DRC, but Nyiragongo Volcano comes close.
The active volcano is what you see on arrival at Goma, a rosy glow boiling mysteriously on its conical top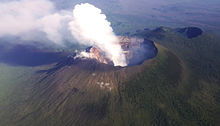 HERE YOU FIND THE OPPORTUNITIES FOR 4 TYPES OF ACTIVE HOLIDAYS!