A beloved island, best known for its tropical beaches, luxury hotels and exciting attractions.
Whether you're looking for an adrenaline rush or a day of daring exploration, a world of adventure awaits Sentosa.
A visit to Marina Bay is guaranteed to bombard your senses.
Orchard Road's bustling boulevard is now a retail and dining paradise with thousands of businesses offering the ultimate lifestyle experience to both tourists and locals.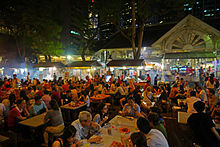 HERE YOU FIND THE OPPORTUNITIES FOR 4 TYPES OF ACTIVE HOLIDAYS!