The combination of safaris, breathtaking landscapes and phenomenal beach holidays guarantee a truly unforgettable experience.
It is home to 7 world heritage sites and world wonders. You will find here: Africa's highest mountain, its largest game reserve, its largest volcanic caldera, its oldest human settlement; and – the awe-inspiring spectacle of 1.5 million wildebeest, zebras and antelopes crossing the Serengeti plains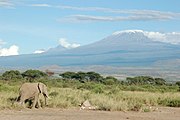 HERE YOU FIND THE OPPORTUNITIES FOR 4 TYPES OF ACTIVE HOLIDAYS!