On your trip to Syria you can visit the ancient cities of Damascus, Bosra and Aleppo.
The serenity and beauty of the ruined city of Palmyra will leave you breathless.
Holidays in Syria are made better with the many mysterious castles, medieval labyrinthine souks, the Umayyad mosques and Damascene houses.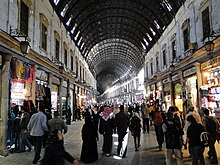 HERE YOU FIND THE OPPORTUNITIES FOR 3 TYPES OF ACTIVE HOLIDAYS!