Washington, DC (Washington for visitors and DC or District for locals) is divided into four squares – northwest (NW), northeast (NE), southeast (SE) and southwest (SW). It is a city with districts and each with its own diverse culture.
Enjoy the views from Capitol Hill, beyond the Capitol, with a mix of public buildings, townhouses, specialty shops and restaurants.
Often foggy but also home to several public buildings, is now a charming, quiet neighborhood. Perhaps the most famous part is Georgetown, a historic district with elegant 18th and 19th century townhouses, home to many influential residents, as well as chic restaurants and shops.
One of the most colorful neighborhoods is Adams Morgan, with an exquisite mix of international restaurants, sidewalk cafes, ethnic shops and nightly entertainment..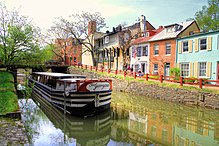 HERE YOU FIND THE OPPORTUNITIES FOR 3 TYPES OF ACTIVE HOLIDAYS!